Map & Directions to the Sims & Campbell Law Offices
Our lawyers appreciate the opportunity to learn more about your Maryland estate planning needs. Please submit the form below to contact an estate planning attorney at Sims & Campbell Estates and Trusts. We look forward to working with you.
For detailed driving directions from your location to our law firm near you, click on the location arrow above "Show Route."
Your browser will then ask for your location.
Hit "Yes" and your location will be loaded.
Click "show route" and directions will be displayed.
Once you enter your starting point, you will receive detailed driving, or transit directions to our office.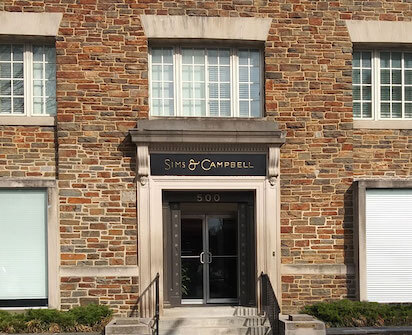 Sims & Campbell Estates and Trusts
From the Towson Circle
Exit onto E. Joppa Rd.
Turn right almost immediately onto Delaware Ave. (If you reach Virginia Ave. you've gone too far)
Take the first right onto E. Pennsylvania Ave. (If you reach E. Chesapeake Ave. you've gone too far)
Turn right into the parking lot just past Sushi Hana, before you reach 500 York Rd. (the stone building at the corner of Pennsylvania Ave. and York Rd.
Park in one of the two spaces against the stone building (if those spaces are not available, please park towards the middle of the lot)
Note: Please walk around the building to the front entrance on York Rd. If you need assistance or in the event of bad weather, please use the back entrance and press the button to be let into the building.
Office Hours:  8:30am – 5pm, or by appointment